whoeverxwins

Tumbles, Esme


Posts: 1889
Registered: Oct 2008

Posted October 2nd, 2011 12:11 PM IP


---
I have some characters free if anyone would like to role play, both original and canon. Take your pick and we can work something out.

Felisia Nightshade - She is my original character and has a lot of backstory to her. Unspeakable, but in hiding and teaching Experimental Magic at Hogwarts. A potion she has invented has caught the Dark Lord's attention and has made her a target. She needs help!

Luna Lovegood - Good ol' Loony... She's easy to put into various situations, just be aware that she takes little seriously...

Draco Malfoy - our tortured soul, misunderstood by all. But he's only evil on Tuesdays...

Crispin Ainsley - a Muggle born Slytherin, placed there by the Sorting Hat because of his ambition, not his birth. What stories can we come up with?


---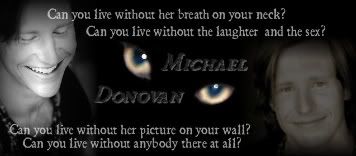 {loc: Michael Donovan}{gen: Semi-Serious}{Gend: Female_or_Male}{Genre: Everything}