trac dave

Administrator


Posts: 2036
Registered: Jan 2007
Posted March 10th, 2010 06:37 PM IP
---
U.S.D.R. Desert Championship Series
2010 U.S.D.R. Round 2
"Coming of Age"
"Sanders scores first Pro win"
By Dave Earll
Photos by Tony Lamping/off-roadphotos.com
Red Mountain.
RIDGECREST, CA. 03-07-10


For Colton Sanders, the second round of the U.S.D.R. Desert Championship Series will be an event that he will remember for a lifetime. At just 16 years of age and in only his second race as a Pro, the young KTM rider put in an amazing performance as he used both speed and consistency to capture his first of what is sure to be many, overall desert victories.

After a fairly difficult season opener, competitors were given a break for Round Two as the U.S.D.R. staff set up what would be a fun and very fast race track. While enjoyed by nearly all of the record 400 entries, a "wide open" course can also present its share of challenges to faster racers. If you want to run out front you have to hang it all out, and at speeds of almost 100 mph, there are only a few that are willing to see how far they can go. Those are the ones who make it to the top.

Turning Pro means pushing it to the limit. That's the decision Sanders made as he retired his number one plate in the lites class and moved up to the big league earlier this year. A bad crash would end his hopes for win at Round One last month, but even so, he showed impressive speed and surprised everyone by running in the top three at the beginning of the race.

Encouraged by his earlier performance, the Thousand Oaks Powersports/Maxima/Dunlop sponsored youngster was looking to keep it on two wheels and give it all he had to prove himself against some very experienced competition. At the drop of the green flag, he would do just that. Leading the pack out onto the 17 mile course, Sanders would be followed by series champion Nick Burson, Ryan Kudla, Travis Livingston, and first time expert racer Garrett Burnett. There would be some sketchy moments for Sanders on this first of four laps, but somehow he would keep it together and once again surprise the crowd as he came through the scoring area out front with a comfortable lead over his Husqvarna sponsored rival.

Returning home from a B.I.T.D. race the day before, where he finished third with teammate Ty Davis, Burson would find himself at a bit of a disadvantage due to missing the Saturday Practice session. "I was definitely hesitant on that first lap." Said the ZipTy/AXO sponsored rider, "I felt good, but sanders was hauling!" Burson would stay close for a while, but as the laps wound down, it was apparent that this might not be his day.

Back in the field a couple of spots, some great racing was taking place. While Pro class racer Ryan Kudla was holding down a solid third, it was his brother Erek Kudla who had his hands full with arch rival and current Open Expert champion Livingston. "What a great race!" said the T.O. Powersports/Amsiol/Dirt Digits backed Kudla, "we were racing so hard we both actually missed our pits and had to turn around." This mistake would hurt both racers, but in the end it was Livinston who would pay the higher price. "Maybe I could have kept going." Said the Factory Effex/DT motorsports backed Kawasaki rider, "but I didn't want to take the chance." Playing it safe may have been the way to go, but now he would have to play catch up to the KX 450 F's of Team Kudla for the two remaining laps.

At the finish it was a stunned Sanders taking the checkered flag for his first overall win. "I don't quite know what to say right now." Said the KTM rider, "it's all blur because I honestly didn't expect this today, but I need to thank Jeff Harriott at T.O. Motorsports and Ron Lechien at Maxima for making this possible." Finishing second, Burson will certainly be looking to get back some of that speed that might be missing in time for Round Three. Third would go to the Amsoil Sponsored Kawasaki of Ryan Kudla followed by Erek Kudla, Livingston and Anthony Vasquez rounding out the top six.

While Race #2 would see some new faces at the front, it was just like old times in Race #1 as two time Senior-2 champion Ron Burns claimed the overall win in his first race back after recovering from ankle surgery over one year ago. After some early handle bar banging with fellow S- 2 class racer John Sides, it would be the Norm Burns Trucking sponsored KTM of Burns taking the checkered flag with time to spare. It seems the more things change, the more they stay the same.




colton sanders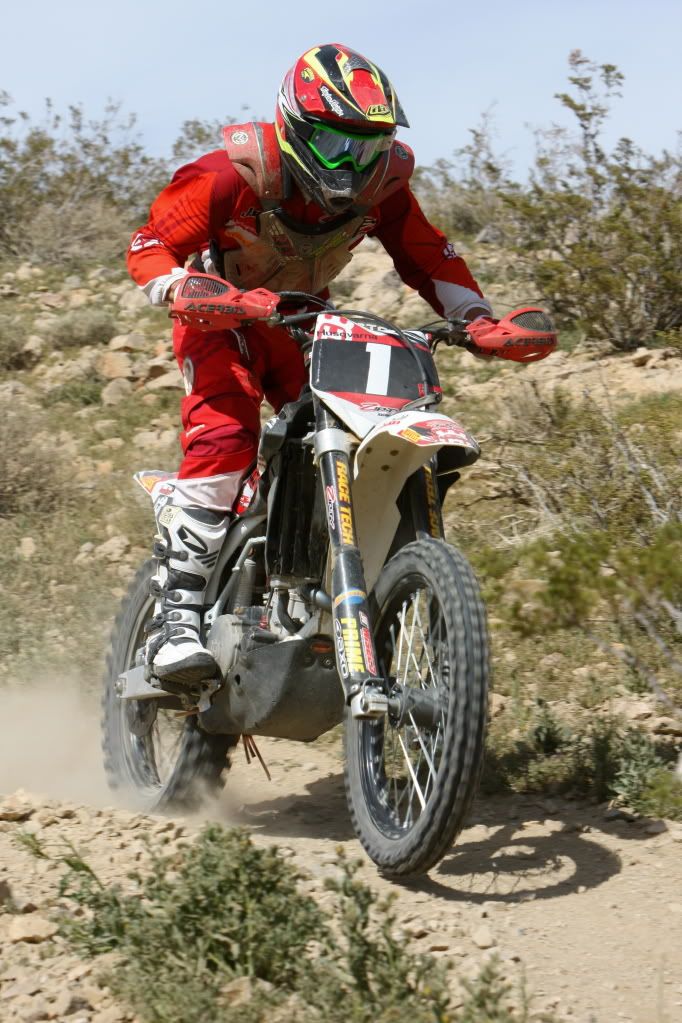 Nick Burson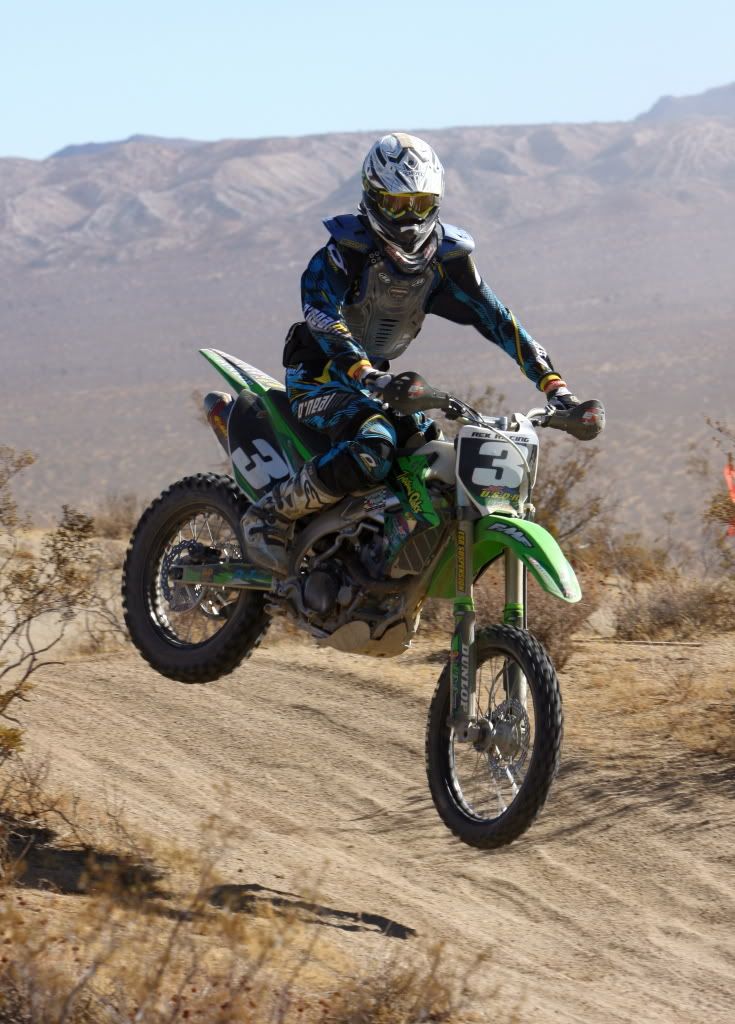 Ryan Kudla


Ron Burns

(Edited by trac dave)
---
U.S.D.R. Administrator.