KUDLA 21

KUDLA 1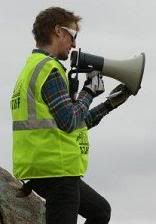 Posts: 1808
Registered: Jan 2007
Posted November 25th, 2010 10:39 AM IP
---
quick little write up on www.kudlaracing.com

KUDLA TAKES TITLES

For me the event was a lot of fun. I really didn't know how my collar bone was going to fare in the rocks but it was actually the cold that was hurting the most.

It was super duper windy and people were leaning at a 45 degree angle to keep on the trail. It rained for about half the 1st loop and just got even colder during the second loop dropping to the mid 40's!

Finished 25th overall after flipping over the bars and the bike landing on me just a few hundred yards from the last check but I'm fine. It was just really hard to get out from under the bike and I lost a lot of time...

anyone that wants to come out and ride an Enduro for the 1st time is more then welcome to join us on our minute and we'll show you a good time!!!


---
USDR EVENT COORDINATOR

EREK KUDLA

2 TIME USDR OPEN CHAMPION

3 BROS KTM, FLEXX CO., GPR, DIRT DIGITS, MOOSE RACING, DIRT TRICKS, BULLET PROOF DESIGNS, ENDURO ENGINEERING